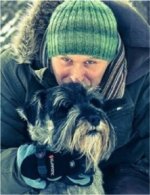 Paul Hillary
Creative
Hailing from Cumbria and graduating in Graphic Design from Kingston, Paul worked for various design groups around London and the home counties. He has worked on accounts including Ladbrokes, British Airways and Unisys before setting up Red Echo.Design
With a strong print and identity background Paul has most notably won a DBA Design effectiveness Award for literature design. He has welcomed a progression of his skills into web and screen graphics.
To keep the balance Paul is a snow boarding nut, windsurfs, mountainbikes and is learning to kite surf.
He has also had various art exhibitions in the South of England mainly semi-abstract in oils.